We proudly feed our horses feeds developed and formulated by Farmers Cooperative Association located in Frederick, MD. We have been using their feeds for over 10 years with fantastic success. Their variety of feed choices offers a customizable solution to your horses' nutritional needs.
Farmers Cooperative takes pride in the consistent formula of their feed. It does not change based on the market price of the ingredients. By Chance Farm believes this is an important attribute to proper and safe feeding. Farmers Cooperative also blends their feeds regularly and date stamps each bag to ensure freshness. By Chance Farm does not feed a bag of grain to your horse that is over a few weeks old. Farmers Cooperative's on staff nutritionist is constantly researching the latest nutritional guidelines which ensures that your horse is receiving the best product possible.
By Chance Farm offers the following Farmers Cooperative feeds as standard, but we will work with you and your horse's dietary requirements if a different option is required.

Pelleted Feeds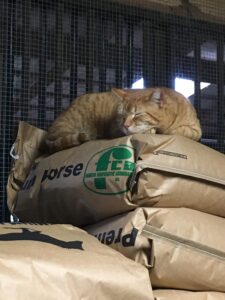 10-10 Pellet – Protein 10.0%, Fat 10.0%, Fiber 15.0%
Fortify Supplement – Protein 20.0%, Fat 4.0%, Fiber 20.0%
Fiberize – Protein 13.0%, Fat 12.0%, Fiber 21.0%
The 10-10 pellet is formulated to help horses in work maintain weight without extra pounds of grain. The Fortify Supplement pellet is a grain free option for easy keeper types that only need essential vitamins and minerals without the calories. Fiberize is our senior choice due to it's good protein, fat and fiber content and soft pellets mixed with beet pulp.
Specialty Feeds
High Fat Low Carb – Protein 12.0%, Fat 20.0%, Fiber 19.0%
At By Chance Farm, we understand that some horses require a high performance diet based on their workload. The High Fat, Low Carb (HFLC) soft pellet fulfills that need. It provides enough energy without excess sugar for calm, long-lasting performance instead of the over-stimulated or "hot" result that some higher performance feeds can produce. This grain is also perfect for horses prone to metabolic issues including laminitis. We find that this is the perfect additive to any of our other grains when more fat and energy is needed in the horses' diet.