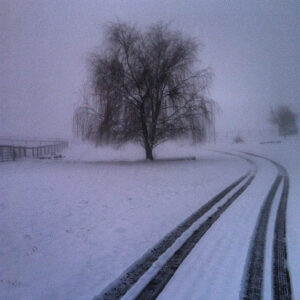 By Chance Farm rests on a pastoral 111 acres in Eastern Frederick County Maryland.
We are located just outside of Libertytown on Bessie Clemson Road about 20 minutes from Frederick, Westminster and Mount Airy. Our secluded location offers a quiet setting for you and your horse to relax and enjoy your riding time. We strive to maintain a low-key, relaxed environment at the farm.
Our farm offers over 70 acres to roam and enjoy the scenery, including 20 acres of wooded trails. We have several logs and small cross country fences integrated into the property and trails. Many of our boarders use the outside perimeter of the property for conditioning their horses. We often have small groups of boarders go on hacks around the property as an alternative to ring work.
By Chance Farm welcomes dogs, but they must be properly socialized, well behaved and current on vaccinations and de-worming. We want you and your four-legged friends to have the most enjoyment possible! Many of our boarders bring their dogs for exercise and fun, but we do ask that you keep an eye on your dog and not let them run free while you are riding.
The facility offers three barns, indoor arena, outdoor arena, trailer parking and turnaround, and 8 turnout pastures on just over 33 acres. We also have 3 sacrifice paddocks for those horses who need limited grass. For more information about our amenities, please click the links below.
We also host multiple dressage schooling shows each year and a weekend USDF Licensed and USEF Recognized dressage show in late July. Our schooling dressage shows are once a month from March through October. Our boarders often compete in these shows which offer a convenient way to experience a show environment without the hassle of trailering off the property. Of course, if you board with us, you might get recruited into volunteering for a show at some point, but there are plenty of benefits, including Charlene's fabulous food! We always have a great time at our shows and everyone seems to really love them.