We proudly feed our horses feeds developed and formulated by Purina. These feeds have made a big difference in body and coat condition as well as energy. Their variety of feed choices offers a customizable solution to your horses' nutritional needs.
Why Purina?
Tailored Solutions: Feeds are precisely formulated for your horse's age and lifestyle. You'll see the proof in strong hooves, shiny coats, and healthy horses.
Driving Passion: They're passionate about helping horses reach their fullest potential. They are proud to sponsor A Home for Every Horse and professional ambassadors so that every horse's story can be one of greatness.
Unparalleled Expertise: With every Purina product you're getting the best thinking of the most accomplished group of Ph.D. equine nutritionists and equine experts in the industry.
By Chance Farm offers the following Purina feeds as standard, but we will work with you and your horse's dietary requirements if a different option is required.
Pelleted Feeds
IMPACT Professional Performance – Protein 14.0%, Fat 8.0%, Fiber 15.0% – includes a service of OUTLAST Gastric Support
IMPACT All Stages 12% – Protein 12.0%, Fat 6.0%, Fiber 12.5%
Impact Professional Performance feed is made for hard keepers and performance horses. We've seen a huge difference in our hard keepers coat and body condition on this feed. Impact All Stages is made for horses of all ages and activity levels.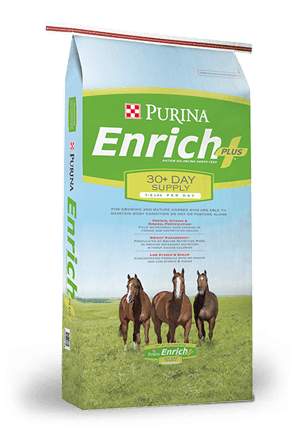 Specialty Feeds
Enrich PLUS Ration Balancer – Protein 32.0%, Fat 5.0%, Fiber 5.5%
Wellsolve L/S – Protein 12.0%, Fat 5.5%, Fiber 23.0%
At By Chance Farm, we understand the needs of horses with metabolic conditions as well as the "easy keeper". To support those horses we carry Enrich for the "easy keepers" at no additional charge to our clients. Enrich Plus is made for horses able to maintain body condition on hay and pasture alone. For horses with metabolic conditions we feed Enrich throughout the winter and Wellsolve L/S in the spring. Wellsolve is formulated with lower starch and sugars to support insulin resistant and cushingoid horses.